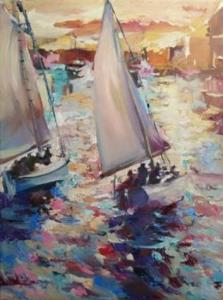 Presidential Scholar '95 alumnus and Cape May County, New Jersey resident artist, Linette Childs, returns to her native State of Maryland, to present her most recent paintings of predominately New Jersey landscapes, portraits and illustrative imagery, at the Yellow Barn Gallery, November 28th, through November 30th, 2014.

A reception for the artist is scheduled Friday, Nov. 28th, for 5 – 7 pm, in the gallery.

This event, which is hosted by the National Park Service and the Glen Echo Partnership for Fine Arts & Culture titled, "Esoteric Dreams", represents works created from both imagination and her beautiful surroundings.

The show is a compilation of original oil paintings, many unseen and unpublished, portraying the many facets of modern society juxtaposed with simplistic beauty in peace and tranquility. Linette's work encompasses all aspects of style in painting, using representational, illustrative and abstract styles, as a reflection of her personal...